Helena House
Assisted Living Ministry



Helena House is a beautiful assisted living facility located on Paris Avenue in Port Royal SC.

Arno and I were among the first group invited to entertain the residents there when the first residents moved into the building in 1999. One of the original residents is still living and doing very well.

We began our Bingo ministry there in the dining room on a Sunday afternoon with our granddaughter Kristen sitting in the middle of the table in her infant seat with all the residents fussing over her. She was quite a hit.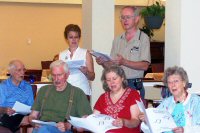 We soon had to ask for donations from our St. John's congregation because the crowd at the dining room table began to grow from just a few to between 15 and 20 every Sunday afternoon. We have been very fortunate to have had a few faithful donors that have remained loyal donors for all of these years. To them we are very grateful and the residents are most grateful also.
Our St. John's Chancel Choir has visited several times to sing along with the residents.
Recently the Lutheran Men in Mission and the Women of the ELCA have made contributions to add to that of our faithful donors. We want to thanks both groups for your most welcome donations.
We try to keep the cost of the prizes around 50 cents. Some of the favorite prizes are:
candy bars**
microwave popcorn
sugar free candy
sugar free snacks
costume jewelry
bar soap

cheese/peanut butter crackers
pudding cups
small bags of chips
paper towels - large package
little knick knacks
liquid hand soap

small cans of soda
small cans of v8
small cans tomato juice
toilet paper - large package
anything you think older folks would be interested in
**The residents really like the candy bars, and we often run low on those. Combination of several different flavors - Snickers, Mars Bar or 3 Musketeers, etc would be good. We just take the whole box to the table and let them choose.

There is a basket marked for Helena House in the hallway near the classrooms if you would like to donate to this ministry.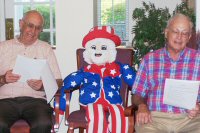 We would also like to extend an invitation to anyone interested in helping with this ministry. We would love to train 8 people. It would be wonderful to have a rotation schedule so that a 2-person team would go only one Sunday a month. We have a lower attendance at this time, so one can handle it, but two makes it more fun.

Please prayerfully consider if this is a minstry that you would find fulfilling.



Peace and Love, Jane Moellenhoff



---
"Thank You"
Dear Friends, On Sunday afternoons during 5 1/2 years, our mother, Louise Clowney, lived at Helena House. We knew our visits ended at 3:00 PM because mom wanted to play Bingo. Playing Bingo was truly one of her favorite activities, and she did not want to miss it. The game was fun for her and she enjoyed the company. That time brought much pleasure and joy to mom in the midst of her struggle with dementia.
Thank you so much for your faithfulness in coming to Helena House almost every Sunday to offer that activity for mom and all the residents. Doing so is a ministry, and we and mom thank you for ministering to her and all the other residents throughout the years.
The following quote, attributed to Mother Teresa, is appropriate: "We can do no great things, only small things with great love.' Thank you for your faithfulness in showing love to our mom and all the residents of Helena House."......Sincerely, Shirley Tuttle and Chip Clowney